Investors - Press Releases
TRHC's Capstone Performance Systems Gains New Clients and Expands Services in 1Q19
Technical assistance advising and Medicare risk adjustment services spur growth
MOORESTOWN, N.J., May 14, 2019 (GLOBE NEWSWIRE) -- Capstone Performance Systems, a subsidiary of Tabula Rasa HealthCare, Inc. (TRHC) (NASDAQ: TRHC), a leading provider of technology-enabled solutions to mitigate medication risk and improve health plan operations, has introduced new services and gained additional PACE (Program of All-inclusive Care for the Elderly) clients in the first quarter of 2019. Its expanding client roster includes two new PACE clients in Michigan, which recently began receiving Capstone risk adjustment and concurrent coding services.

Additionally, Capstone's Technical Assistance Center (TAC), which provides expert guidance to organizations at all stages of the PACE process, has seen considerable growth and expansion in the market. TAC is working with new and/or existing programs in nine states, including California, Florida and North Carolina. New programs in Indiana, will contract with Capstone during the PACE application process and continue services after commencing operations.  
"We are pleased with the growth our company has experienced," said TRHC Chairman and CEO, Calvin H. Knowlton, PhD. "Since acquiring Peak Health Plan Management and adding our TAC service line, we have signed a number of new clients. Our expansion of services has been favorably received by our clients, existing and new. With the integration of our recent acquisitions, including Mediture™, eClusive® and Cognify, TRHC is able to provide comprehensive services to assure participant health and safety, and that PACE organizations are regulatory compliant and financial management is optimized. Our company is well-known and enjoys an outstanding reputation in the PACE market."
PACE is a federal program benefiting individuals 55 and older who are nursing home eligible. PACE includes 260 centers in 31 states serving a growing number of eligible Medicare and Medicaid participants.  The goal of the program is to keep participants living at home in their communities for as long as possible.
About Capstone Performance Solutions
Capstone Performance Systems provides expert Medicare risk adjustment services to ensure proper reimbursement and optimal utilization to Programs of All-inclusive Care for the Elderly (PACE), a Federal program benefiting individuals 55 and older, and other at-risk healthcare organizations. Its Technical Assistance Center (TAC) partners with organizations at all stages of PACE, while Peak Health Plan Management provides Third Party Administrator (TPA) services that support organizations in managing business functions that drive reimbursement.  For more information visit www.tabularasahealthcare.com/our-solutions/careventionhc/careventionhc-for-pace/.
About Tabula Rasa HealthCare
Tabula Rasa HealthCare (NASDAQ:TRHC) is a leader in providing patient-specific, data-driven technology and solutions that enable healthcare organizations to optimize medication regimens to improve patient outcomes, reduce hospitalizations, lower healthcare costs and manage risk.  Medication risk management is TRHC's lead offering, and its cloud-based software applications provide solutions for a range of payers, providers and other healthcare organizations. For more information, visit: www.TRHC.com.
Forward-Looking Statements
This press release includes forward-looking statements that we believe to be reasonable as of today's date, including statements regarding Medication Risk Mitigation technology.  Such statements are identified by use of the words "anticipates," "believes," "estimates," "expects," "intends," "plans," "predicts," "projects," "should," and similar expressions.  These forward-looking statements are based on management's expectations and assumptions as of the date of this press release.  Actual results might differ materially from those explicit or implicit in the forward-looking statements. Important factors that could cause actual results to differ materially include: the need to innovate and provide useful products and services; risks related to changing healthcare and other applicable regulations; increasing consolidation in the healthcare industry; managing our growth effectively; our ability to adequately protect our intellectual property; and the other risk factors set forth from time to time in our filings with the SEC,  including those factors discussed under the caption "Risk Factors" in our most recent annual report on Form 10-K, filed with the SEC on March 1, 2019, and in subsequent reports filed with or furnished to the SEC, copies of which are available free of charge within the Investor Relations section of the TRHC website http://ir.trhc.com or upon request from our Investor Relations Department. Any forward-looking statement speaks only as of the date on which it was made. TRHC assumes no obligation and does not intend to update these forward-looking statements, except as required by law, to reflect events or circumstances occurring after today's date.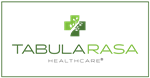 Source: Tabula Rasa HealthCare, Inc.